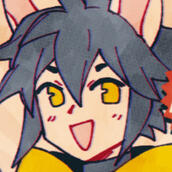 TENSHIKA
deer in headlights
---
Commission Status:
O P E N
CONVENTION PICKUP ONLY!!
edit: 03/15/23; 3:28PM PST
THANK YOU!!!
---
o<-<
TERMS OF SERVICES:
---
---
ANIME IMPULSE SAN DIEGO (3/18 - 3/19)

CONVENTION PICKUP POLICY:

You must be present at the convention stated in order to place and order for convention pick up!

IF AND ONLY IF commission isn't finished within convention hours, expect additional shipping costs for the commission to get shipped to you!
---
COMMISSION TERMS OF SERVICE:

I have the right to decline any commission.

Payment will be made before any process!

You only have 48 hours to pay before your order is cancelled, unless specified otherwise. Once payment is made, I will proceed to finish the commission! (PLEASE be sure to have funds ready when you place an order!)

Payment is in USD and will only be through Paypal.

No refunds. Unless I haven't started on your commission or I am unable to due to personal reasons.

Process usually takes: (Washitape: About 2-4 weeks) (Digital: About 1-3 weeks).

If you need it by a certain due date, sadly I cannot accommodate to that request!

All commissions are for personal use only, please DO NOT MONETIZE IT!

I have the right to use the commission for self promotion and upload it on my social media/portfolio.

Please do not repost the artwork without crediting me.

Prices may be subjected to change. So please check my prices every time I open. Thank you!

If you have any questions, please don't hesitate to dm me on IG or email me: [email protected]
---
| CAN DO | CAN'T DO |
| --- | --- |
| Fanart | Furry (Kemonomimi is totally fine, in fact, highly encouraged hehe///) |
| OCs | Mecha |
| BL/GL | Mascot Characters (ex. Sonic, Mario, Kirby, ect..) |
| Slight NSFW | Real life people (ex.You and your husband, Real life actors like Brad Pitt/Chris Evans or whatever you peeps watch..) |
| Gore | ---- |
Commission Menu:
---
Washitape Art Commission:
Traditional Art commission topped with washitapes
Pricing & Receiving:
$70 USD per sheet (+$60 for an additional character)

(only max of 2 characters per sheet)

Paper Size: 4x6"

Washitape choices will be up to the artist's best judgement! PLEASE DO NOT REQUEST FOR WASHITAPE COLOR CHOICES TY

This type of commission involves a lot of improvising, if you're not comfortable with that then please do not order!

-----------------------

ANIME IMPULSE SD PICKUP: PICKUP will be at Table AB08! PLEASE STATE what days you will be attending when submitting a form!

-----------------------

You will be receiving the physical commission via shipment!

With tracking(Package): $5

Without tracking(Stamp Letter Mail): Free

FOR INTERNATIONAL CUSTOMERS: PLEASE CHECK USPS SITE TO SEE IF YOUR COUNTRY IS ABLE TO RECEIVE PACKAGES FROM THE US!!

Any international shipping costs might differ for each region, please understand it can range from $5 -> $15;;; I can't control shipment costs and will choose the cheapest one available!
In a case where the commission piece gets lost via shipment, commissioner can ask for shipment refund and will receive photograph file copy of the commission in place of lost piece
---
Digital Commission:
Chibi Chibi
Pricing & Receiving:
$30 per chibi (+$25 for additional character)

Canvas size: 3"

You will be receiving a digital file copy of your commission via email

Non-watermarked
Digital Half Body + Headshot
Pricing & Receiving:
$70 per piece

Canvas size: 4x6"

This type of commission involves a lot of improvising, if you're not comfortable with that then please do not order!

You will be receiving a digital file copy of your commission via email

Non-watermarked
ready to order? please copy the form and send it to:
[email protected]//DO NOT SEND ME A GOOGLE LINK, PLZ HAVE MERCY, DIGGING THROUGH TAKES A LOT OF TIME!
I only accept toyhouse for a portfolio link or something similar, PLEASE ONLY SEND 1-3 ATTACHED REFERENCES! THANK YOU!!!COMMISSION FORM:
name: (your name)
commission type: (please specify!!!)
references: (1-3 attached images/proper portfolio)
personality: (please keep it brief!!)
relationship: (IF it's more than one characters together)